Dairy cows at risk of ketosis
Problems with transition cows usually manifest themselves in the month immediately after calving: around 75% of all adult cow health problems happen in the period around calving1, with around 50% of cows having some health issues at this time2. However, multiple factors can contribute, and many of the important precipitating factors start prior to calving, ie. in the dry cows.
To understand ketosis risk levels on your farm, and identify 'pinch points' that may occur in your system, use the Healthy Start Checklist. Watch Owen Atkinson from Dairy Veterinary Consultancy Ltd explain how to use the Healthy Start Checklist:
Request a call back to discuss arranging a Healthy Start Checklist on your farm; alternative contact information can be found here.
(Please note this inbox will be checked during the next business day. If you require an urgent response to a product-use query, suspected adverse event or quality complaint regarding an Elanco product, please call 01256 353131 choosing option one (1) for technical services. Outside of office hours, your call will be forwarded to our medical answer service and an Elanco representative will call you back. Thank you for your understanding.)
Why do Body Condition Scoring?
Body Condition Scoring is an important management tool to help achieve a balance between economic feeding, milk production and good welfare. Cows with the correct condition score have a lower chance of developing ketosis, displaced abomasums and fatty liver around calving4.
What is Body Condition Scoring?
Body Condition Scoring provides a 'hands on' objective measure of the amount of fat cover on the cow. Since fat is an energy reserve, condition scoring helps to provide an indication of the cow's energy status. Most scoring systems use a 1-5 point scale, with increments of 0.25.
When to Body Condition Score?
Body Condition Scoring should be carried out regularly throughout the cow's production cycle, and especially at
Dry off
3-4 weeks pre-calving
Calving
60 days post-calving
Watch Owen Atkinson from Dairy Veterinary Consultancy Ltd explain how to Body Condition Score:
All cows will drop their dry matter intake a few days before calving, but it has been shown that the cows that show the largest drop in intake, and are slowest to recover, are the cows most likely to get sick after calving3.
Rumen Fill Scoring gives an estimate of the daily dry matter intake for the individual cow, which gives an indication that the cow is able to access sufficient feed.
Watch Owen Atkinson from Dairy Veterinary Consultancy Ltd explain how to Rumen Fill Score:
While some cows are more obviously at risk, in every herd there are 'outliers' which may show less obvious signs of being at risk of subclinical ketosis: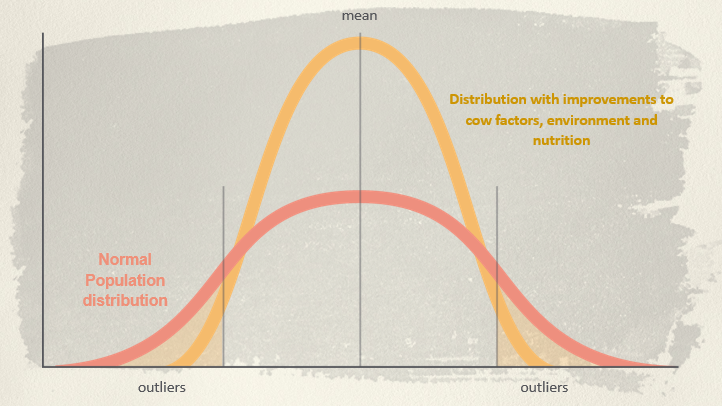 Some high risk cows to consider initially could be SOFT cows:
Sick - any animals who have been lame or sick in their dry period
Old - with lactation 3 and above5,6
Fat animals with Body Condition Score ≥3.57,8
Twin bearing9
Also discuss with your vet and nutritionist about ongoing monitoring (via blood testing or inference from milk records) and prevention of ketosis in your herd alongside targeting those high risk animals.
One option for reducing the risk of ketosis in these high risk cows is to administer a KexxtoneTM bolus 3-4 weeks pre-calving. KexxtoneTM is a prescription-only medicine available from your veterinary surgeon which contains monensin. Monensin is released over a period of around 90 days and works by favouring the proprionate-producing bugs in the rumen. Proprionate is used by the cow to produce glucose, which is the main energy source required for various processes including milk production. More proprionate = more glucose = decreased risk of ketosis.
Contact your Elanco Account Manager or veterinary surgeon for more information on KexxtoneTM.