Fasimec™ Duo
A combination flukicide and wormer to be used when it's necessary to treat liver fluke and GI worms at the same time.
Contains Triclabendazole, the only active ingredient to kill all 3 stages of liver fluke down to 2 days old in sheep.
Plus Ivermectin, a proven group 3-ML wormer that kills all major roundworms including larval stages and even white drench resistant worms.
Fasimec Duo minimises liver damage caused by all 3 stages of liver fluke, optimising productivity.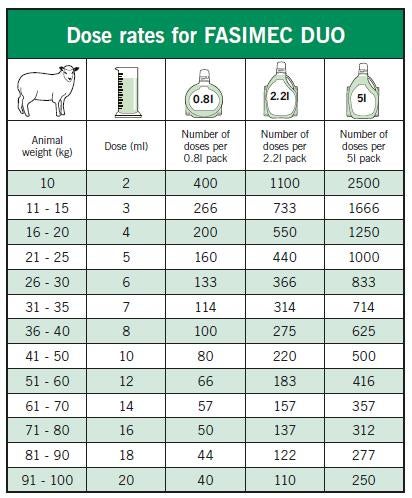 Click here for information on Fasinex™ 5%
Click here for information on Combinex™ Sheep
Click here for information on Flukiver™
Click here for information on Supaverm™
Click here for information on Rycoben™