Blowfly Control
Blowflies are attracted to lay their eggs on areas of soiling or damage (wounds) on the animal, or on carcasses. Therefore, the key to blowfly control is to minimise breeding opportunities by:
managing deadstock: remove deadstock as quickly as possible, and keep deadstock covered while waiting for collection
managing flock health: minimise faecal soiling through good worm control and fleece management, and through treating wounds, including foot infections
using a preventative treatment early in the season: prevent established blowfly strike in the flock to protect the sheep and to prevent those first waves of flies from breeding. Doing this will massively reduce blowfly numbers, and strike risk, later in the season.
So what preventative treatments are available?
There are only three groups of actives available for blowfly control:

Insect Growth Regulators (IGRs) are not insecticidal, and instead work by preventing the harmless first stage blowfly larvae developing into the damaging second and third stage maggots that are responsible for flystrike.
The Elanco CLiK™ portfolio, made up of CLiK™ EXTRA, CLiK™ and CLiKZiN™ are IGRs. These are the only products to benefit from FleeceBind™, a a technology that allows the product to spread and bind to give full fleece protection*, minimising the risk of fly strike.
The CLiK™ portfolio of IGRs break the blowfly lifecycle: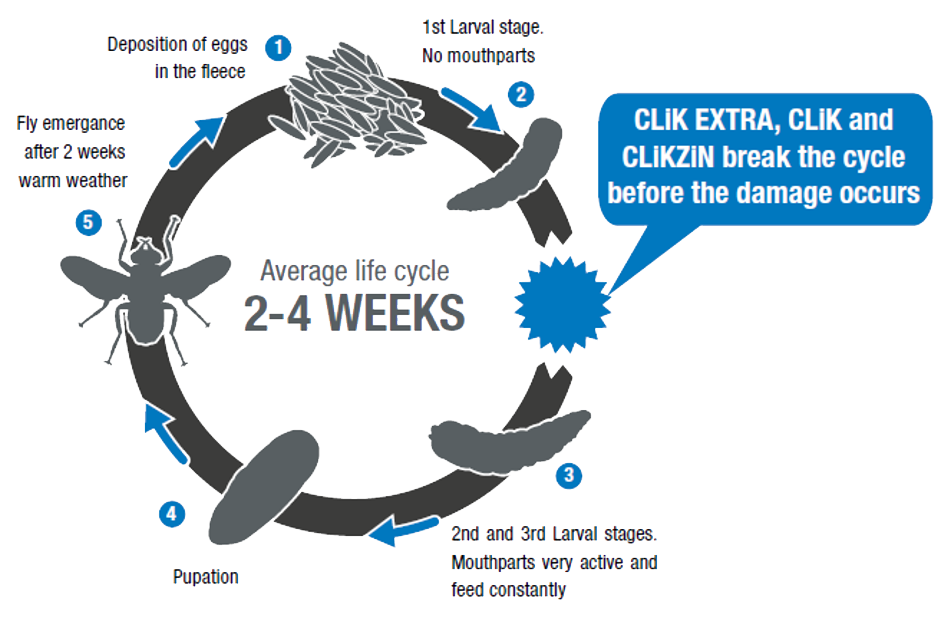 Organophosphates (OPs) and Synthetic Pyrethroids (SPs) are insecticidal - they kill adult and larval stages of the blowfly on contact. The Elanco blowfly portfolio is completed with the synthetic pyrethroid Crovect™.
Unsure which product to use when? Check which is most appropriate for your blowfly prevention here.