Do you know the true cost of blowfly strike?
As temperatures vary and the season lengthens, livestock farms across the country begin preparations against blowfly strike. Unwilling to risk the potential impact to productivity, Flock Manager Henry in Gloucestershire has implemented a preventative programme of fly control to cover the season, making sure profits are maintained even in times of high fly challenge.
"Blowfly strike is one of the most devastating things that can happen to your sheep,"
he says.
"If you have the right product you can apply treatment and not have to worry about reapplying it. If you delay or don't take the appropriate preventative measures, strike can be detrimental to the flock."
Henry found that proper planning and use of the right product has proven a necessity for blowfly control programme.
"I think a lot of farmers accept they'll get some blowfly strike early on in the year and treat if required, with a plan to apply a preventative to the flock post-shearing,"
says Henry.
"This is not the most effective use of time and doesn't guarantee that there won't be any losses either through lamb productivity, ewe health or even mortality rates."
All lambs are now treated with CLiKZiN
™
8-week IGR with a short withhold period to allow flexibility of getting lambs to market. In 2017 out of 1,200 lambs, just one had strike, whereas in previous years with use of SPs there were up to 36 (3%) individual cases a year. Looking at the case in 2017 Henry explains,
"I suspect given the position and timing of the strike, it was down to poor application – on a dirty fleece. Looking at the daily live weight gain of the 32-kilo struck lamb combined with the other costs associated with strike demonstrated to me just how important it is to prevent and not treat when it comes to blowfly strike."
Lamb stats from the point of strike: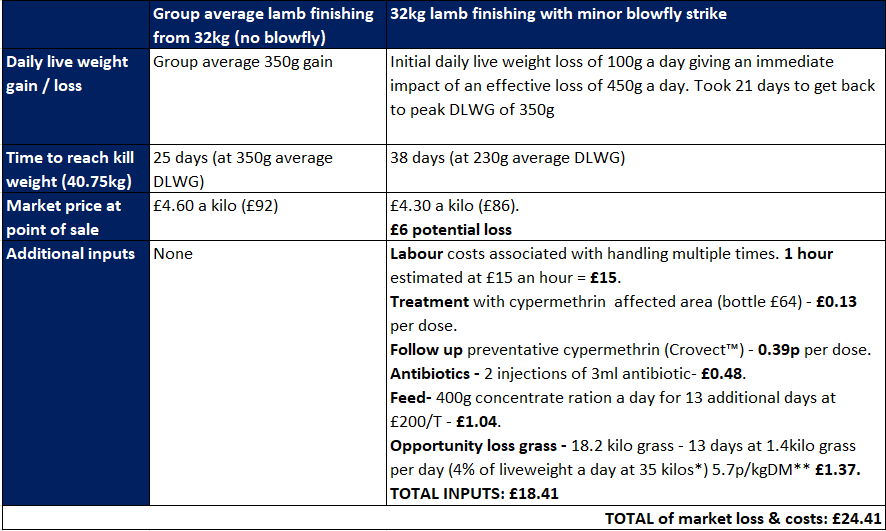 Calculations as of 2018.
Henry feels it is essential to break away from this inefficiency:
"Prior to using the IGR we had a much higher rate of strike in our lambs. If you apply those costs to those 36 lambs previously struck, then prevention is absolutely a no brainer, not many flocks margins can take a hit of £24 per lamb."
With his positive results moving to an IGR, Henry is adamant that no more 'accidental strikes' will occur due to poor applications and is keen to ensure that more farmers adopt a 'prevent first' control policy against blowfly strike.
"When you put all your work into getting the small things right and increase marginal gains, why would you jeopardise it by a potential loss that's entirely preventable?"