Gastrointestinal worms in sheep
There are more than 20 different species of nematode parasites in sheep, many of which have little or no impact on the health and welfare of the sheep. However, some do have a significant impact on health and productivity, with the four gastrointestinal worms of most concern being Nematodirus battus, Haemonchus contortus, Teladorsagia (Ostertagia) circumcincta and Trichostrongylus spp.
Nematodirus battus is usually the first of the gastrointestinal (GI) worms to affect lambs at the beginning of the grazing season; find out more about Nematodirus and how to treat it.
The main gastrointestinal worms that affect lambs and adult ewes or rams are Haemonchus contortus, Teladorsagia (Ostertagia) circumcincta and Trichostrongylus spp. These are the most pathogenic worms in what is usually a mixed infection that causes a drop in growth rates, scouring and weight loss as the worm burden increases.
The timing of these worms appearing on pasture, and the level of challenge they pose to stock depends entirely on previous grazing management and weather conditions. These worms will usually complete several lifecycles during a grazing season, with pasture worm burdens increasing rapidly when lambs and ewes continually graze the same pastures.
Roundworm life cycle
Adult female worms present in the sheep gut lay eggs that pass out of the sheep in the dung. While in the dung, each egg hatches into a first-stage larva (L1), before developing and moulting to second-stage larvae (L2). The L2 larvae then moult again into third-stage larvae (L3), known as the 'infective' larvae, which migrate onto grass, inside water droplets. Once ingested, the infective larvae travel into the wall of the stomach or intestines and develop into fourth-stage larvae (L4), and then about 14 days later into adult worms. The time between the L3 larvae being eaten by the sheep and the eggs being passed out in the dung is known as the prepatent period and is normally 16-21 days.
The lifecycle of sheep roundworms is summarised here: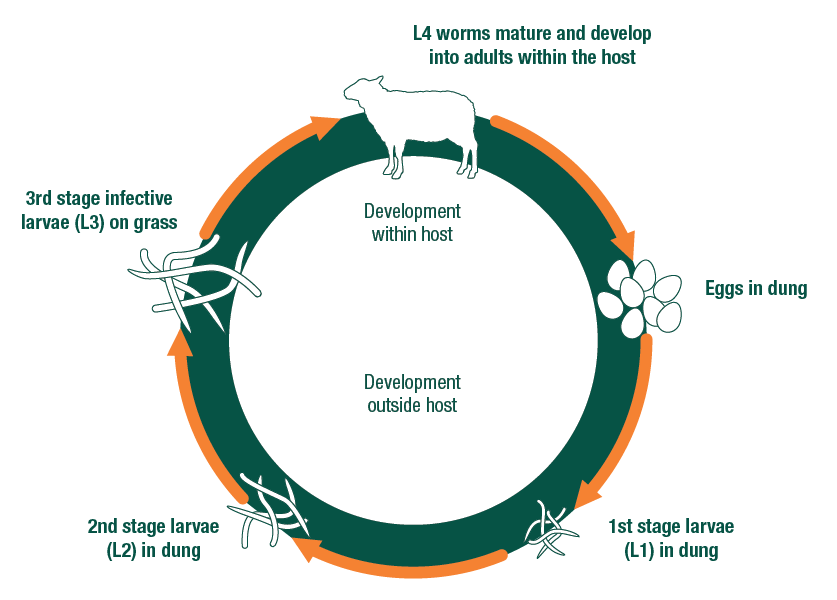 These worms are likely to have some level of anthelmintic resistance to one or more of the three older wormer groups1.
Anthelmintics (wormers) are vital to control worm infections and protect against productivity losses.
There are five groups of wormers available to sheep farmers in the UK: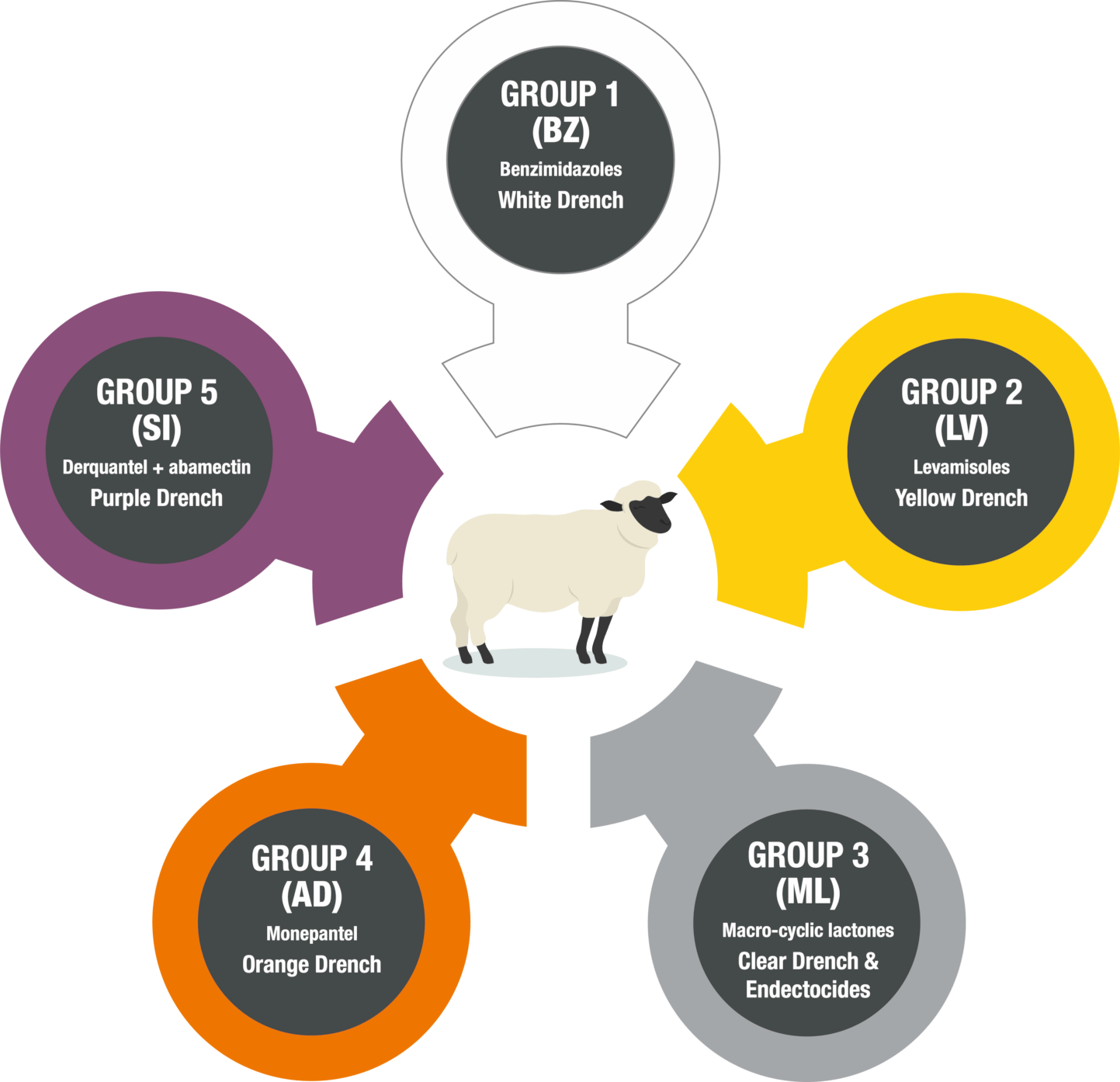 Rycoben™, containing ricobendazole, is a white drench (Group 1-BZ). White drenches are the treatment of choice for nematodirus..
Dectomax™ Injection for Sheep, containing doramectin, is a clear drench (Group 3-ML) that can be used to treat both worms and sheep scab, and is effective against benzimidazole-resistant worms.
Zolvix™, containing monepantel, is an orange drench (Group 4-AD) that is a broad spectrum anthelmintic. It kills all economically significant gut worms, even worms resistant to 1-BZ, 2-LV and 3-ML wormers. Every flock, every year should use Zolvix™. Replacing one current worming dose with Zolvix™ will help preserve the efficacy of the older wormers (1-BZ, 2-LV, 3-ML). The ideal time to use it is in the mid-late season as a break dose in lambs (any time from July onwards depending on worm burden, individual farm needs will vary) and as a farm protection, quarantine dose for any stock moving on to the farm.
When a treatment is needed for fluke at the same time as worms, a combination product can be used such as
Combinex™ Sheep: containing levamisole (Group 2-LV, yellow drench) and triclabendazole, for the treatment of roundworm, lungworm and liver fluke, including fluke over 2 days of age.
Fasimec™ Duo: containing ivermectin (Group 3-ML, clear drench) and triclabendazole, for the treatment of roundworm, lungworm and liver fluke, including fluke down to less than 1 week.
At present, resistant and multi-resistant worms are threatening the efficacy of existing anthelmintics. Worm control practices that were previously recommended have been shown to increase the rate at which anthelmintic resistance develops. As such, it is important we adopt a more sustainable approach to worm control. The principles apply to every farm, but how you apply these principles depends on your own farm situation. This will always include integrating the newer groups of anthelmintics (eg Zolvix™) into your worm control plans: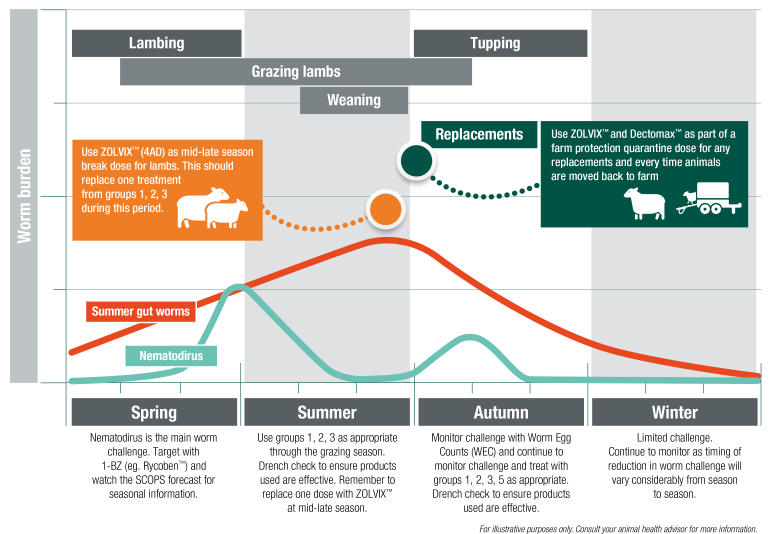 It is important to treat with the right product, for the right worms, at the right time. Further information on sustainable worm control, including which products to use, and when, can be found on the SCOPS website.