Protecting the future of UK sheep farming
Sheep farming, and indeed UK agriculture, is going through a period of change due to the change in direct subsidies to more countryside and environmental stewardship. Although we don't know what the changes will look like yet, what is clear is a need for the sheep industry to be focusing more on productivity and profitability metrics. That's why we've launched our new initiative to help protect the future of UK sheep farming:
Wake Up To Worm Resistance
The campaign is designed to encourage the whole industry to act today so we don't 'sleep-walk' into the real problem of anthelmintic resistance before it's too late. It follows industry endorsement in 2020, where NSA, Moredun, SVS, SCOPS joined together to urge sheep farmers to incorporate the new wormer actives (4-AD, monepantel, Zolvix™ and 5-SI). Read the information in full here.
Anthelmintic resistance is one of the biggest challenges to the health and profitability of sheep and affects the entire sheep industry: a recent study found that parasitic worms has been estimated to cost the European livestock industry more than €1.8 billion per year, with drug-resistance costing at least €38 million per year in production losses and treatment costs.3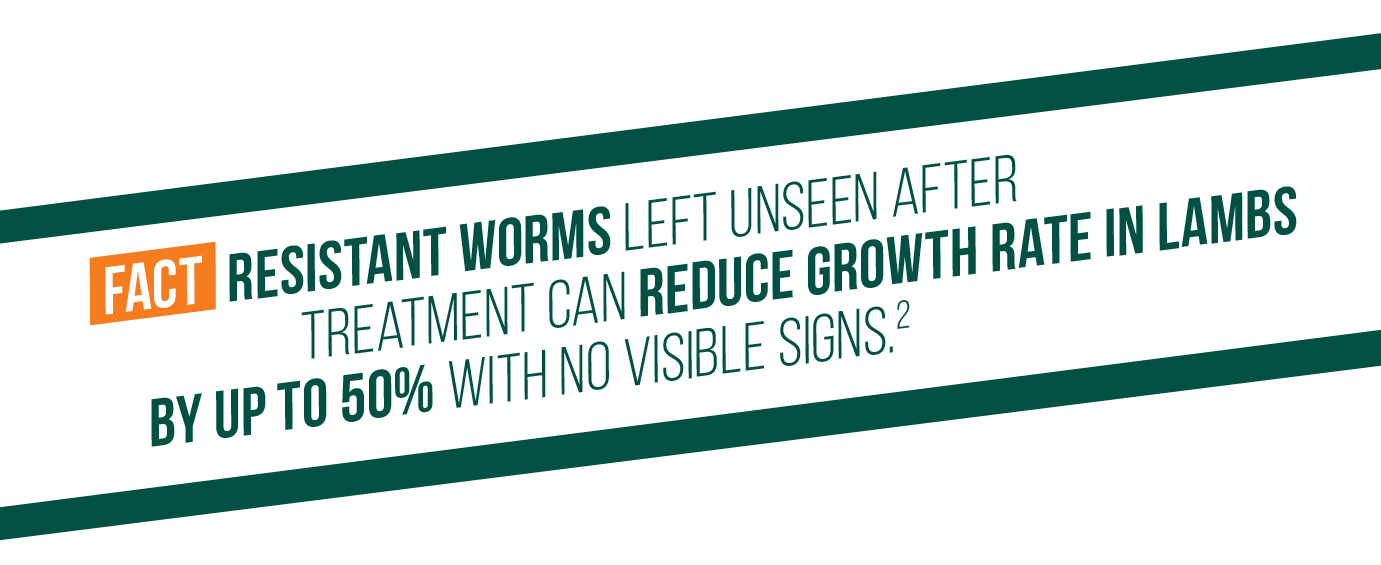 Find out more about anthelmintic resistance here.
In the last 10 years the number of reports of resistance to the three older classes have been increasing. Research from Wales Against Anthelmintic Resistance Development (WAARD) showed the majority of farms surveyed had a degree of resistance to one or more of the three older wormer classes1:

Once anthelmintic resistance has developed, it is not reversible, so we need to do everything possible to slow the development of resistance.
A recent survey4 showed that 86% of farmers thought their wormers were working as well as they always had. The same survey showed that the majority of farmers judged this on "the look and condition of the sheep".
However, data show that lamb performance/growth rate will be reduced by up to 50%2 by a worm burden (e.g. resistant worms left behind after treatment), with no visible sign that the lambs are unhealthy.
Worm resistance is an invisible problem, only becoming visible when it's too late.
By adopting the "Test, Don't Guess" philosophy, farmers can identify the early signs of anthelmintic resistance before it becomes a visible problem and while there is still time to maintain wormer efficacy.
As the impact of resistant worms remains invisible until resistance levels reach the tipping point, it is important to include newer actives in worm control plans now. Taking action before there are obvious problems on the farm will help maintain the activity of wormers for the future, as well as allowing lambs to reach their growth potential today. Depending on your specific farm situation, this doesn't mean that you should stop using the older wormer groups, but rather it is important to start using the newer actives (e.g. 4-AD, monepantel, Zolvix™) in your flock now, as a one-off break dose for all lambs and as a routine farm protection (quarantine) dose for all incoming sheep.
Act now: find out more about how you can wake up to worm resistance and protect your flock today by incorporating Zolvix™ in your worm control strategy.